French/Israeli singer Yael Dray and Argentinian guitarist Gabriel Hermida pay homage to France's national diva, Edith Piaf, with their musical tribute Padam, Padam.
Piaf was the legendary chanteuse who captivated Paris and the world with such ballads as "La Vie en Rose," "Non, Je Ne Regrette Rien" and "Hymne a l'Amour," as well as this show's title song.
As an established New York duo,Yael & Gabriel have a unique sound that borrows from rock, gypsy jazz, classical tango, flamenco and contemporary jazz.
As part of Bastille Day celebrations Yael & Gabriel will also honor legendary french singers such as Aznavour. Brel, Montant, Gainsbourg and more.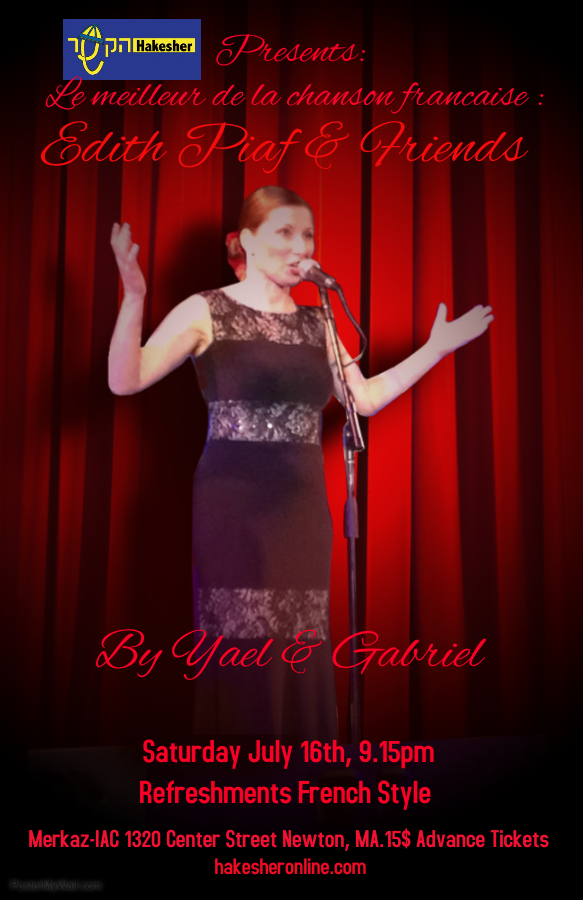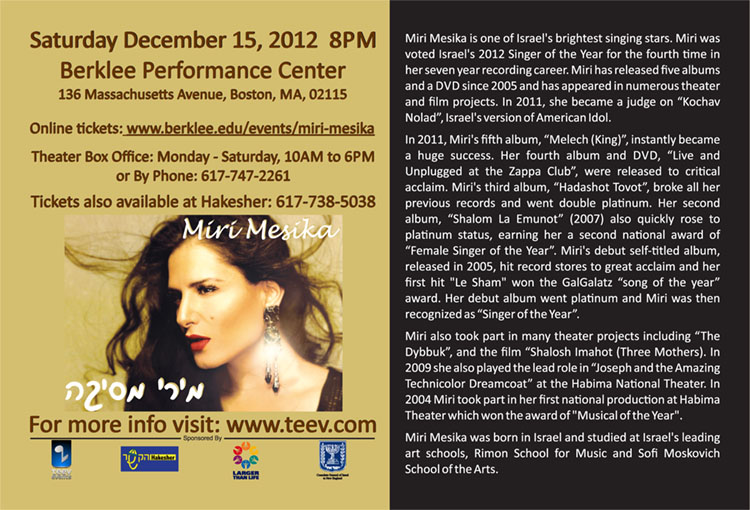 Click here to view a video clip of Lior Adaki on YouTube.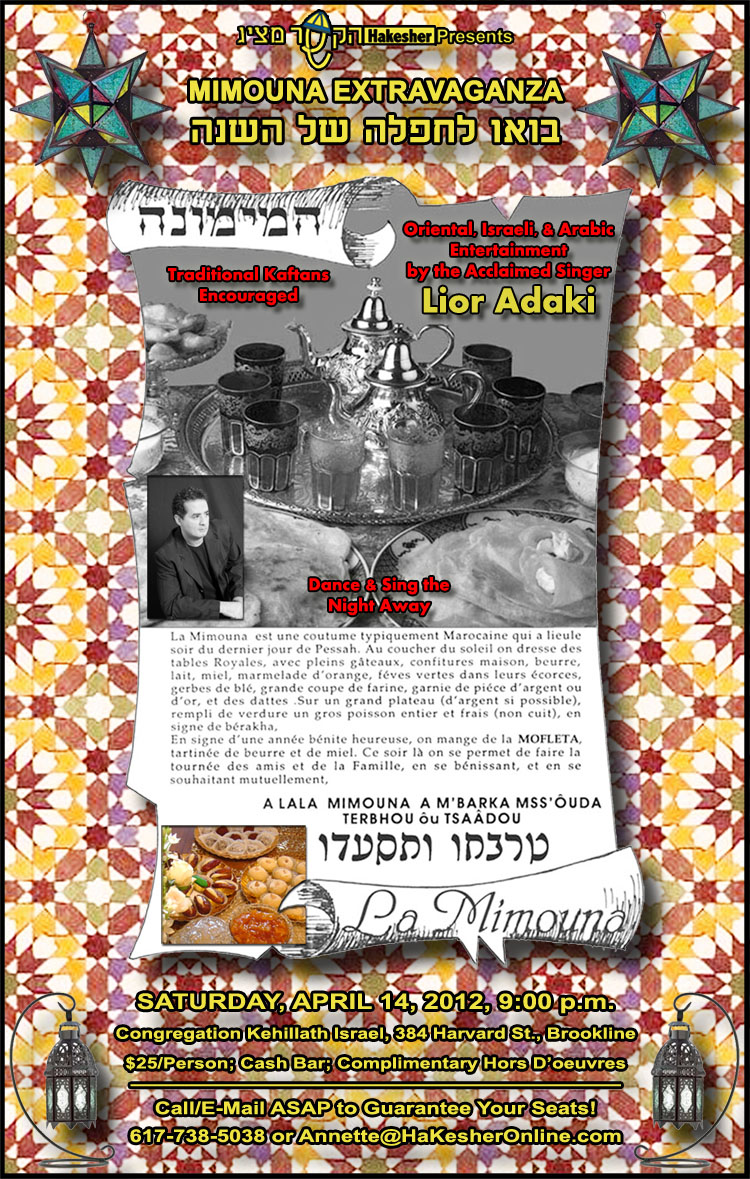 The 3rd North-American tour of the acclaimed play "Address Unknown" will take place 1/20 to 2/10/2011, in honor
of the International Holocaust Rememberance Day, shows are booked in 7 cities, including Boston!
E-Mail Annette@HaKesherOnline.com for more information or the play at your school, temple, etc.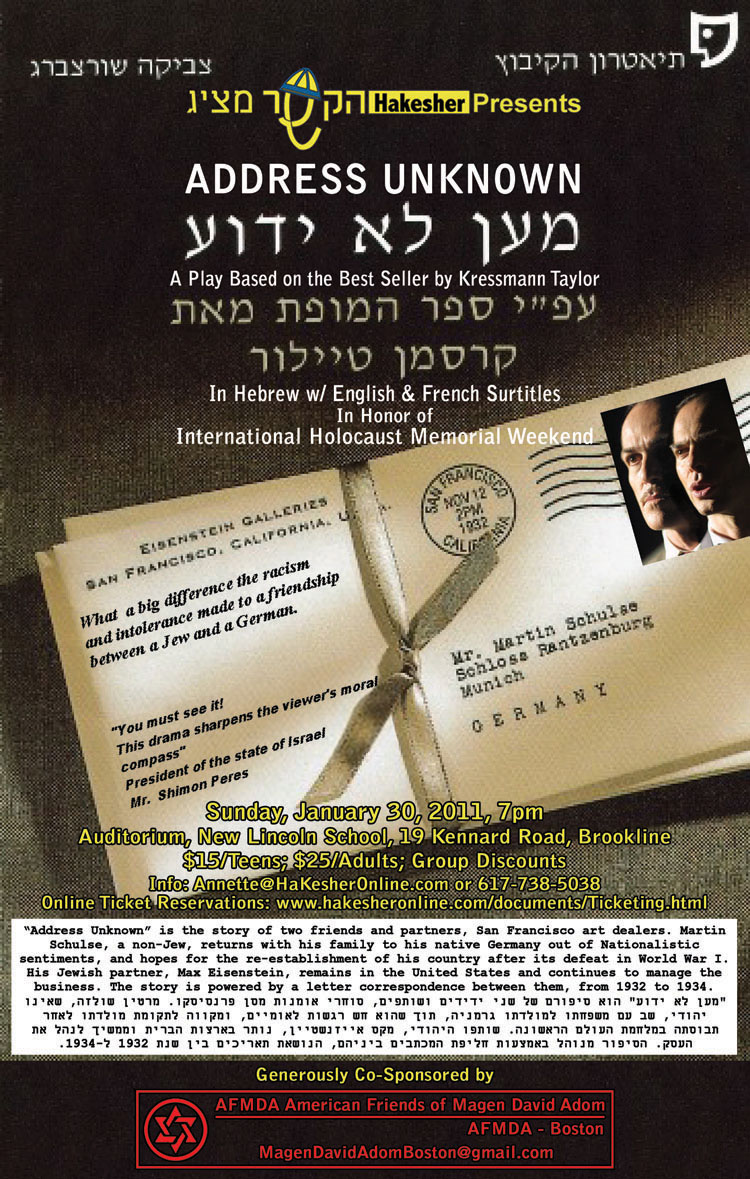 Click here to visit Yehoram Gaon's enhanced website, listen to music, view his films, and witness his legacy!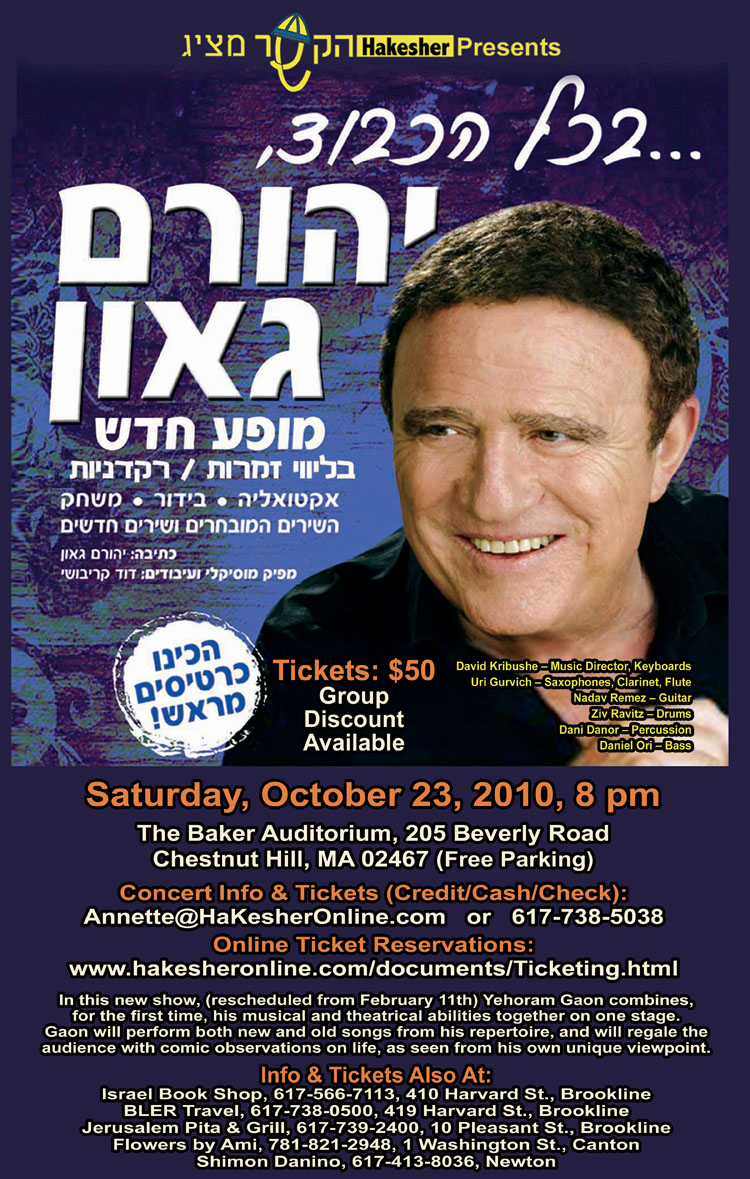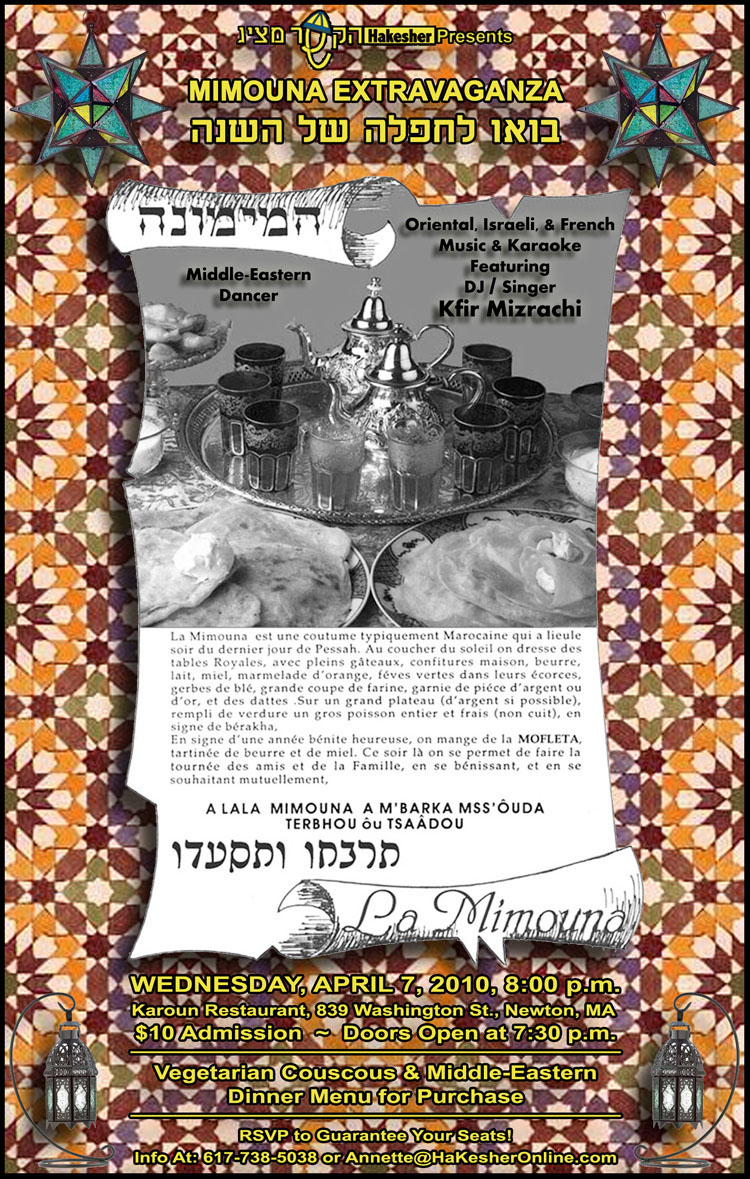 Click Here for A Medley of Rami Danoch (12.3 MB)!
(Right-Click & Save to Desktop for better results.)

Click to Print the Concert Flyer (2 MB)!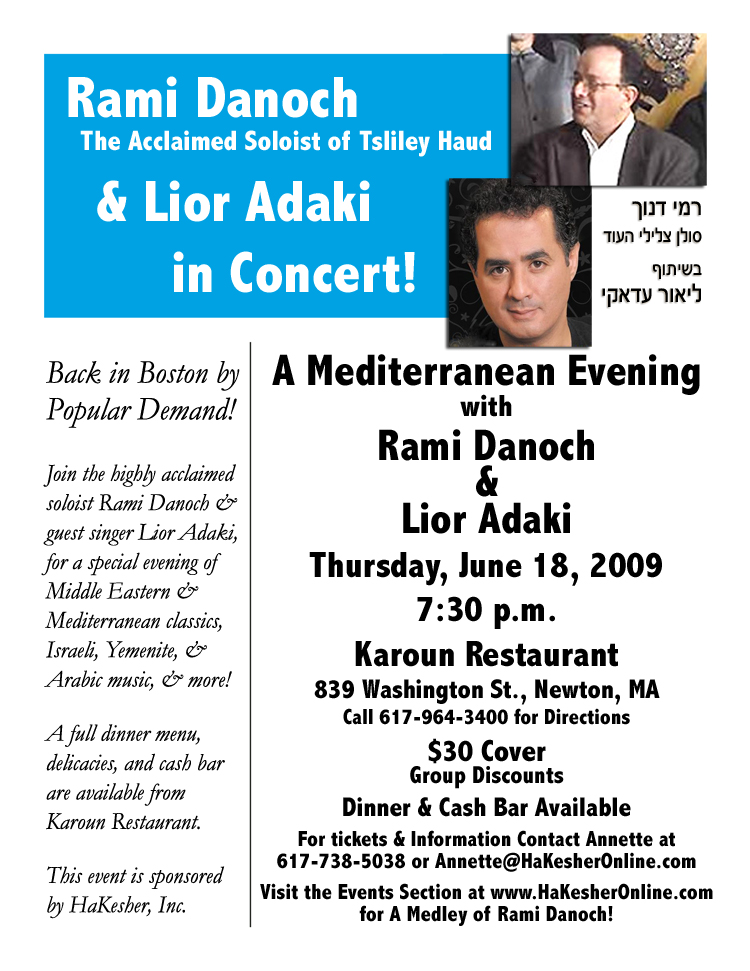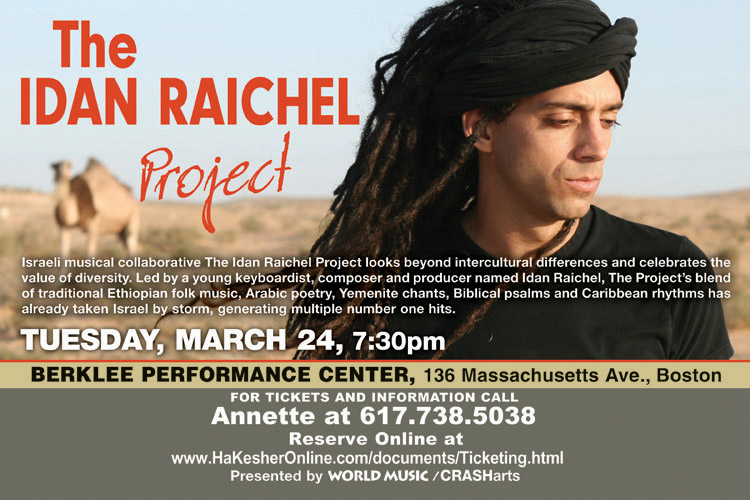 Eyal Golan - Feb 14, 2009


Rami Kleinstein - Dec 6, 2008


Make a Joyful Noise - Nov 22, 2008

Shalom Asyag for the 1st Time in Boston!
Sunday, September 14th, 2008, 7 p.m.

"To Laugh with Shalom Asyag", the new hilarious, exciting, and fast-paced show that talks about life in Israel, the cellular phone syndrome, immigration, Israeli politics, singer, couples, facts, and more - all from Asyag's point of view.
(This show is entirely in Hebrew.)

For Tickets & Info Call Annette: 617-738-5038

Click below to view the trailers for this hilarious upcoming show!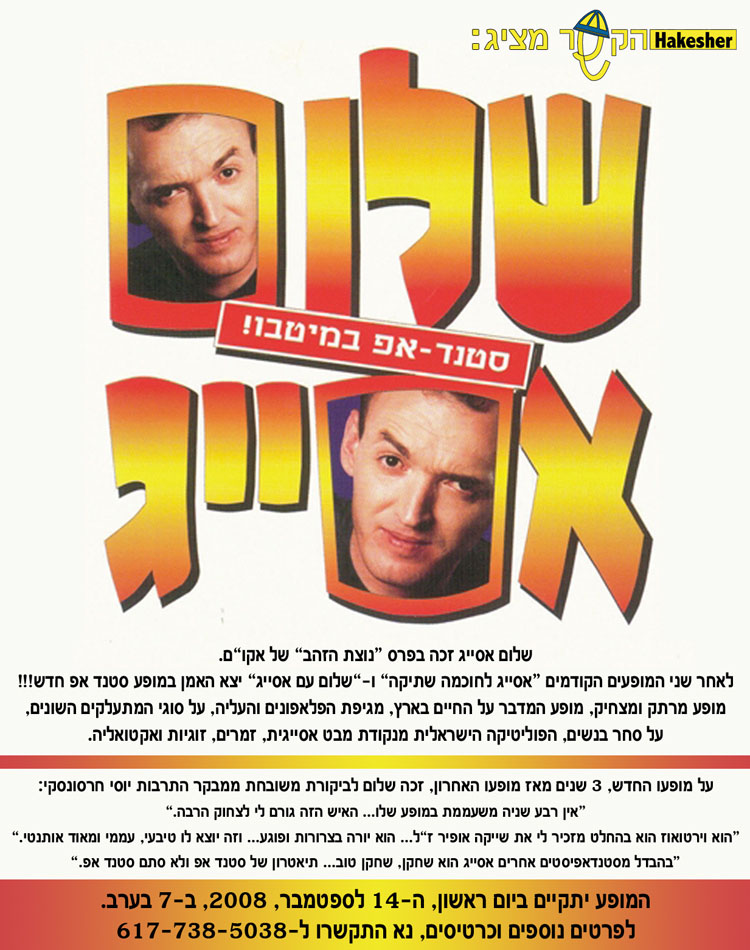 Joe Dassin - La Grande Fete Musicale

Tipex Back In Boston, October 24th!

8:00 p.m.

Middle East Club
480 Massachusetts Ave.
Cambridge, MA 02139

validated parking and other parking
available nearbyOptions

For Tickets & Info Call Annette: 617-738-5038
Click links below for sample MP3 songs from Teapacks!
Song1 , Song 2 , Song 3 , Song 4 , Song 5 , Song 6 , Song 7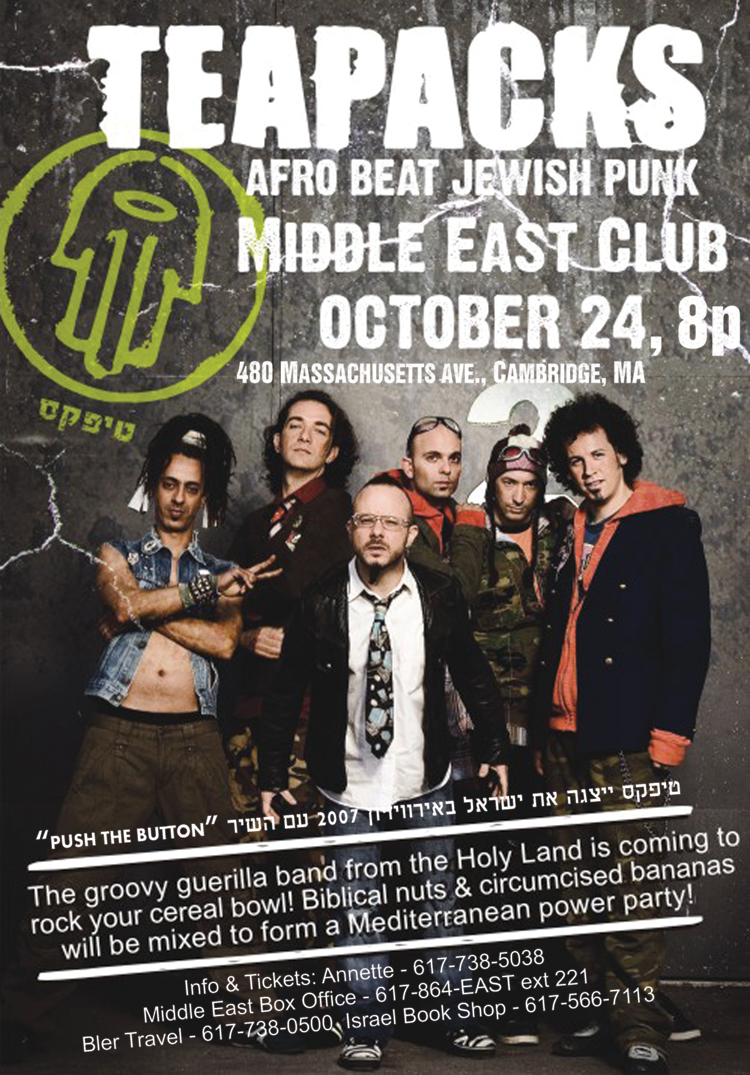 About the music:


How can we describe the music of Teapacks?


It sounds like new street guerilla folk with an overdose of Jewish chutzpa, Israeli power punk chopped with ethnic elements, rap rhymes & pop choruses, North African beat & East European melodies schizophrenically combined with a dirty disco flavor.


Teapacks is guaranteed to move your butt, tickle your feet, mess with your mind, and touch your heart!


About Teapacks:


Teapacks was formed in 1988, when Gal Peremen and Kobi Oz met at a Kibbutz in southern Israel . The two began playing Kobi's original songs, and were later joined by other musicians from local Kibbutzim and the city of Sderot .
Theband has released seven albums, a movie soundtrack, one EP and a greatest hits collection. Four albums went Gold, and two went Platinum. Over the years, their singles have received regular radio play, often climbing to the top of the Israeli charts. Teapacks has been named "Band of the Year" numerous times by various Israeli media outlets. Their thousands of live performances have filled concert halls, festivals, and a host of high-profile events in Israel and around the world.


Teapacks is seen to be the key mover behind the legitimization and success of Middle Eastern music in Israel . Ever since Teapacks' explosion on the scene in the early 90s, Middle Eastern styles began to be considered worthy of heavy rotation on Israeli radio.


Teapacks infamously participated in the last Eurovision Song Contest (kind of an international American Idol for songs) that took place in Helsinki , Finland on May 2007. This unusual experience and the controversial responses to their song, "Push the Button", got them thinking about creating a new album with international songs and performances abroad. Push the button for one of the many YouTube screenings and talkbacks that drew over a million into the debate!


Biography of the composer and author- Kobi Oz:


The lyrics of most Teapacks songs are written & composed by Kobi Oz , the band's lead singer.
He was born in 1969 in the town of Sderot , located in the south of Israel . Sderot, where many leading musicians grew up, is considered one of the most important cities in the Israeli music scene. Oz began creating and playing music at the age of 15. He started out playing keyboards for the band Sfatayim , which performed traditional Moroccan music and eventually became, among other things, a leading music producer who "discovered" many new artists like Hadag Nachash . Additionally, Oz collaborated with Sarit Hadad as lyricist & melodist on one of her albums. This album was a huge breakthrough on Israeli radio, and included Hadad's most well-known and talked about hits.


Besides his music career, an author who has published two best selling books called " Petty Hoodlum " (2002) and " Moshe Chuato and the Raven " (1996) and a social activist who recently organized a big demonstration to raise public awareness of the tragedy of his home town, which is constantly under missile attack from Gaza . About 40 , 000 people came to Rabin Square to show solidarity with the traumatized children of Sderot.
Kobi and his work is featured in the upcoming Fall edition of Zeek magazine.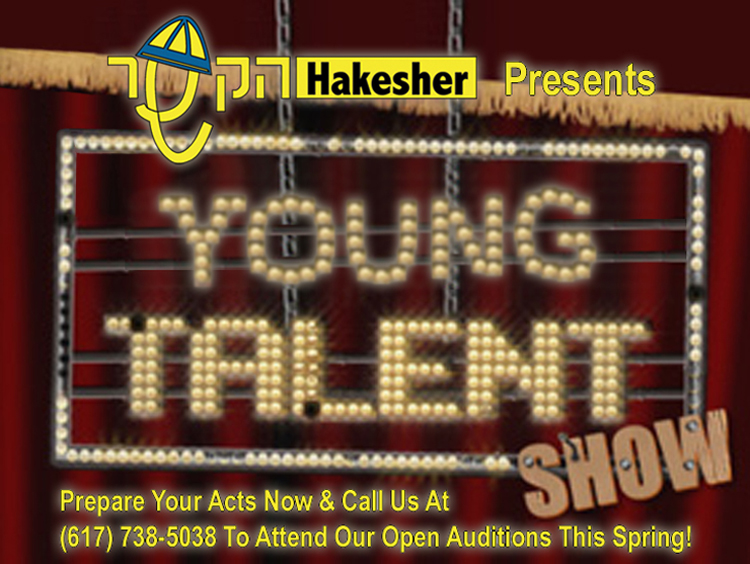 Emil Zrihan Is Performing In Boston, Sept. 8th!

Emil Zrihan, cantor of the synagogue in Ashkelon (Israel), kept the Judeo-Andalusian and folk traditions of his motherland, Morocco, alive in his heart. The impressive vocal range and power of Zrihan's counter tenor express both the emotional intensity of North African songs and the vivacity of Andalusian music. His fascinating 'mawals' (improvisations) are subtly enhanced by the oud, violin, accordion and darbouka. The upbeat rhythmic tempo with its Mediterranean languor of the Orient, a mix which evokes the family gatherings, the songs and the dances of the Sephardic culture.

Click here to listen to an MP3 medley of Zrihan's CD, "Ashkelon"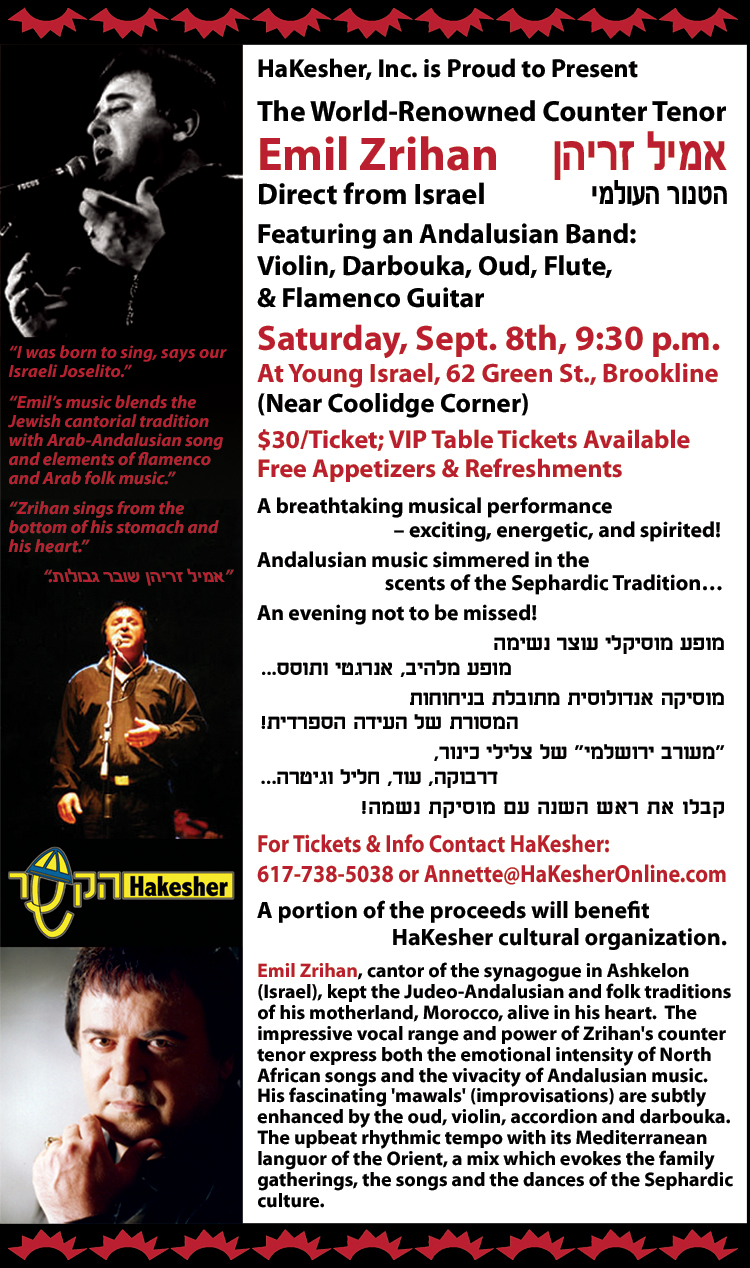 Click On This Banner To Go Directly To NE Celebrates Israel's Official Website!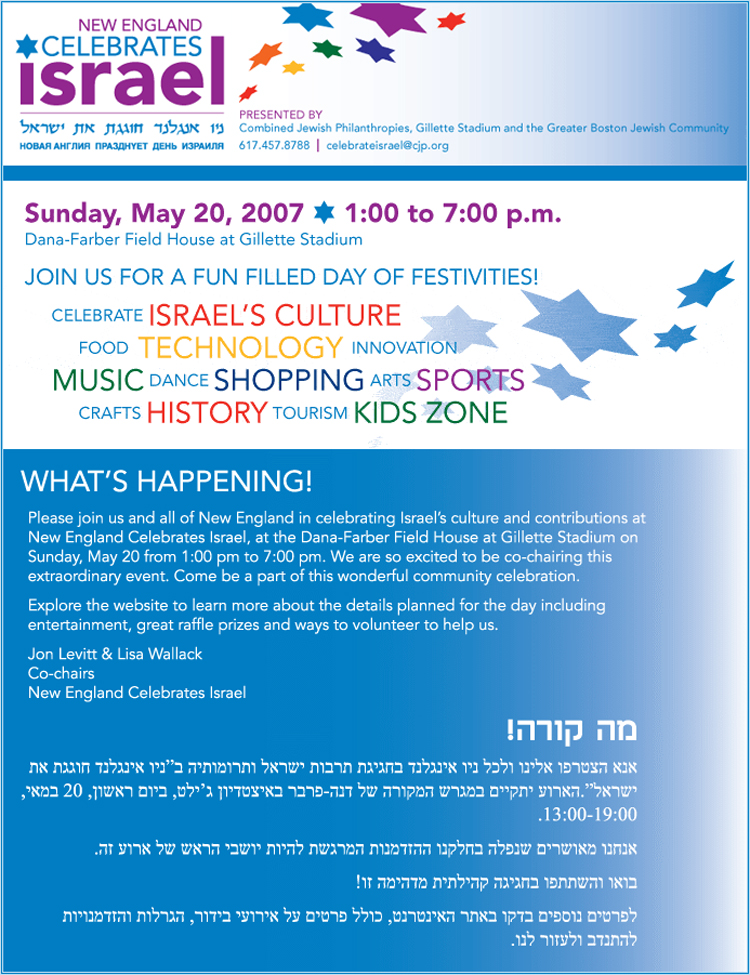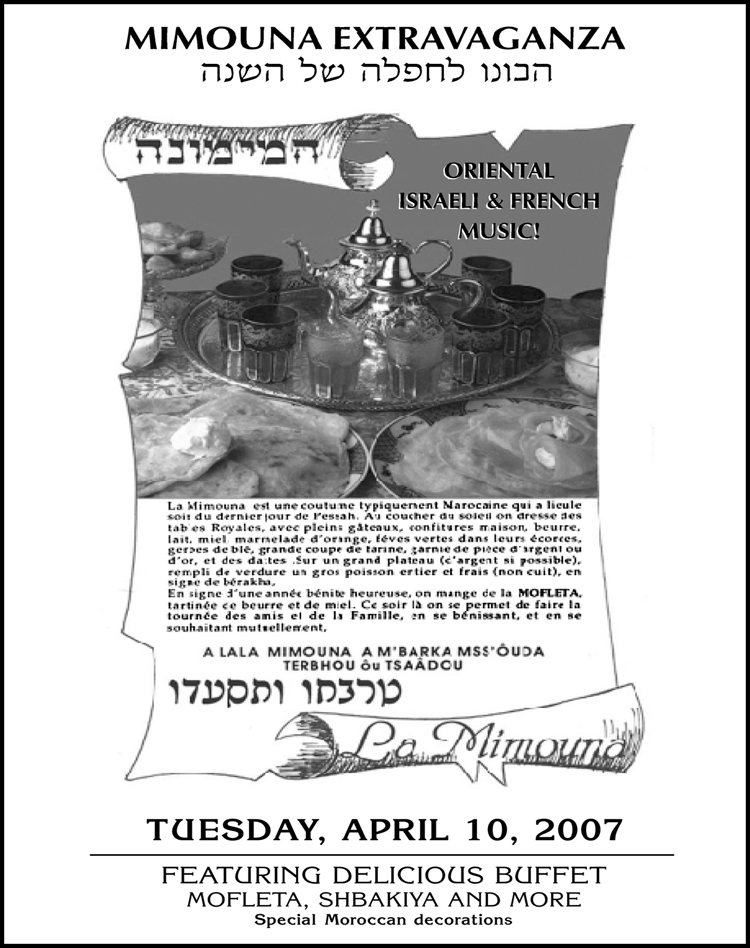 The Sephardic Congregation of Newton

556 Ward St., Newton Centre

invites you to a

Sephardic Shabbaton

February 9th & 10th 2007

21 & 22 Shevat 5767

Featuring

Rabbi Moshe Tessone

Director of the Sephardic Community Programs

Distinguished Faculty member of the Beltz School of Jewish Music at Yeshiva University.

Friday - Mincha & Kabbalat Shabbat- 4:55pm

Saturday - 8:30am

Morning services followed by a Festive Luncheon and a Lecture

Saturday Night - 8:00pm

Melaveh Malkah

Honoring our long time members

Nelly and Elias Cohen

Rabbi Tessone will lead a night of songs with melodies

of the Middle East , Andalusia , and other Sephardic Communities

Social Hall of Congregation Beth-El

561 Ward St., Newton Centre

For more information and reservations please contact Ruthy Philosophe Tel: 617-332-9064 ; Email: philosophe@rcn.com



The Consulate of Israel, Israeli House, & Leventhal-Sidman JCC
Invite You To
Yoni Rechter
In Concert With:
Ayala Asharov - Vocals
& Shachar Mintz - Guitar
Wednesday, December 6th, 2006, 7:30 p.m.
LSJCC, 333 Nahanton Street, Newton, MA
Tickets & Info: Annette @ (617) 738- 5038
Click here for a color flyer with full details!

Teev Production & HaKesher Invites You To
Hadag Nahash
Original Live Hip Hop
Back from Israel, by popular demand!
Join this extraordinary hip hip band for an unforgettable concert
for all ages. Take you family for an evening out before Chanukah,
and see why Hadag Nahash's Boston fans couldn't wait to see them again!
Thursday, December 14th, 8 p.m.
The Roxy, 275 Tremont Street, Boston
For Tickets Call (617) 738-5038 or Visit www.teev.com
Click here for a color flyer with full details:
http://www.hakesheronline.com/temp/Hadag_Nahash_Flyer.jpg

Visit this interesting webpage to learn more about the special upcoming event featuring a lecture/exhibition by acclaimed artists Dov Lederberg and Yael Avi- Yonah!

Stay tuned for an upcoming November show by the talented stand-up comedian, Omri Bar-Lev!
Click here to view a resource site on Omri Bar- Lev.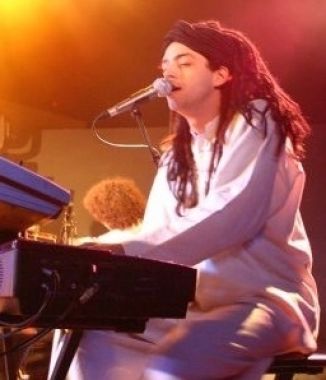 Over the years, the company has developed into a multi-faceted agency, managing, booking, and producing in the various genres of music, dance, and drama. From the Beginning we have aimed on bringing high quality Israeli culture to help unite the American and Israeli Jewish communities by offering extraordinary events that they could enjoy together.
Working with organizations such as the Israeli Consulate of Boston, the Jewish Community Center of Newton, HaKesher productions has brought some of Israel's finest entertainers to the Boston area. Some of the most popular concerts produced by us have included Yehoram Gaon 2x, Avihu Medina Shimi Tavori, Izhar Ashdot and friends of T-slam, Kobi Oz and T-Packs, Jo Amar, Tuvia Tsvir Dani Robas, Rogalach, Shuki & Dorit (Nana muskuri style), Naor Tzion, Einat Seruf.
We have also have assisted with the productions of David Broza, Emil Zrihan, Zev Revach (Sala Shabati) Idan Reichel
Other events have included Israeli Folk Dance, bi-weekly Israeli Movie Nights, hosted by the BCCA.
Other performers over the years:
Mickey Gabrielov, Parvarim Machina, Gidi Gov and his band, Chava Alberstein, Dudu Fisher, Hadag Nahash, Aviv Geffen, Shlomo Bar and Habrera Hativit, Shlomo Bar and David D'or, Dani Robas and Dani Litani, Meir Banai
Yehudith Ravitz; Band in JCC; Noa; Rami Kleinstein, Shlomit Ahoran and Hacol Over Habibi, Hana Laslow; Yoram Tahar lev; Hagashoshl; Arkudi Duchin; Yoni Rechter Ofra Haza; Subliminal.

| | |
| --- | --- |
| click on the pic to enlarge | |

click on the pic to enlarge

click on the pic to enlarge