Coming Soon
Recent Events
The Israeli Folk Dance Workshops
Sunday, November 18th, 2018
Temple Sinai, 1 Community Road, Marblehead, MA 01945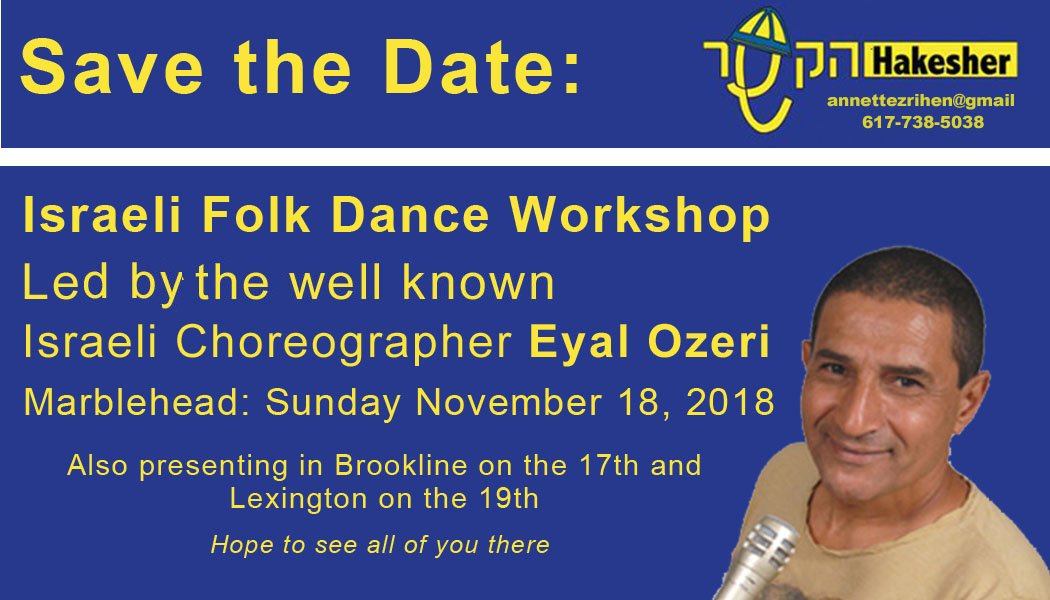 Upcoming Events






Click to listen to Ori Piaf Performing "La Vie En Rose" and "Padam, Padam".

Click to read the Israel Magazine - French Article about Ori Piaf's Show.
In this French article you can read about the magical world of Ori Piaf in a breathtaking show about Piaf's life: "Piaf Above the Sky of Paris". There is no doubt, like the article's headline, that Edith Piaf has been revived by Ori!

About the Show:
"Piaf Above the Sky of Paris" is a exciting performance, performed by the singer & actress Ori, who also wrote a play based on the fascinating life of Edith Piaf, the unique & greatest French singer of all times. The performance, which takes place approximately an hour & fifteen minutes, contains the full, moving, autobiographical story of Edith Piaf filled with hardship: From her beginning as a poor wild girl, through maturity, life filled with obstacles, mischief & wild love affairs, the recognition & success Edith had, all over the world till her tragic inevitable death. The singer & actress Ori, lives Edith Piaf on the stage, sings her best French hits & tells her story with a lot of soul, humor & great passion. The work on the performance took three years, through the emphasis on a full profound research on the life of Edith Piaf, through a graceful direction & through intensive vocal guidance of Professor Hanna Hakohen. Ori is an experienced singer & actress, a graduate of the acting studio of Sofi Moscovich and has a degree in French & English at the University of Bar-Ilan. She also acted in many plays & singing performances in Israel & Europe. Ori's greatest love for the language & French culture brought her to fulfill her dream: To go on stage with a one woman show of Piaf's life.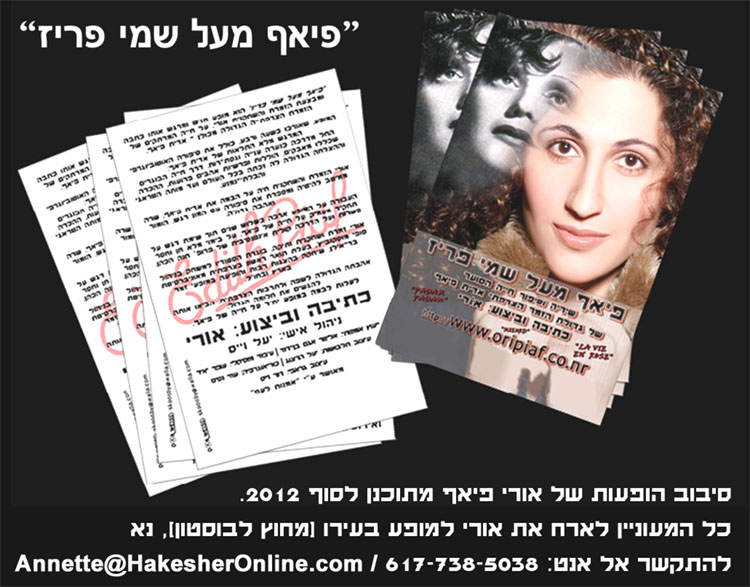 Click here to view a video clip of Ruth Navon on YouTube.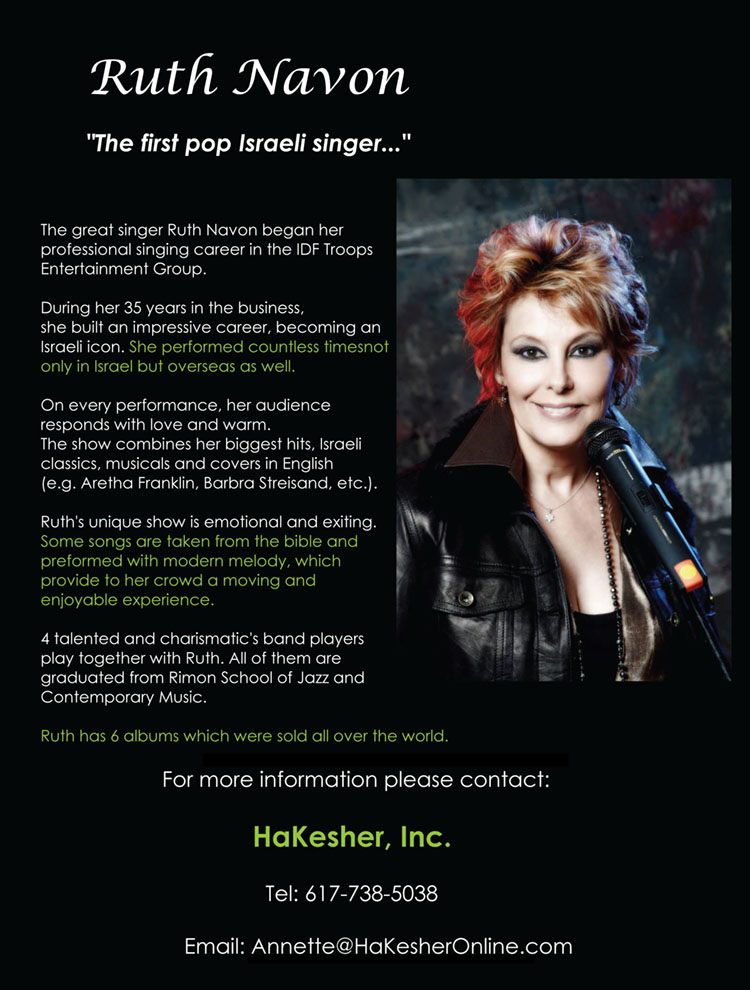 Allo Alaev has deep roots in the music of Tajikistan and the Jewish music of Buchara. Allo Alaev, a great master of percussion, took up the Doyra (a frame drum with metal rings inside), at an early age. He made rapid progress and was soon appointed the first percussionist of the folk Opera Company of the Tajikistan capital Dushanbe where he toured and performed for 50 years. Allo Alaev composes pieces for percussion, manages playing on up to 9 drums at the time and has forwarded this dance- percussion virtuosity to his children and grand children. The entire Alaev family emigrated to Israel in 1991. Allo accomplished to continue the tradition in the family and has made this ensemble well known to all Israeli families, by numerous TV programs –host shows and continuous concerts in Israel and abroad. An ensemble of three generations of virtuosos perform together on stage and create a happy feast of colors and music, where rhythms are dominant. The presence of the younger generation makes this a true cross over from the old to the new. Today, the multi talented ensemble includes Allo Alaev's two sons, Ariel and Amin and his grandchildren Zvika, Allen, Amir and Aviva. (Ages between 79 -15)


Click here to view the Alaev Family's past performances on YouTube.



Click here to view Pirchei Yerushalayim's past performances on YouTube.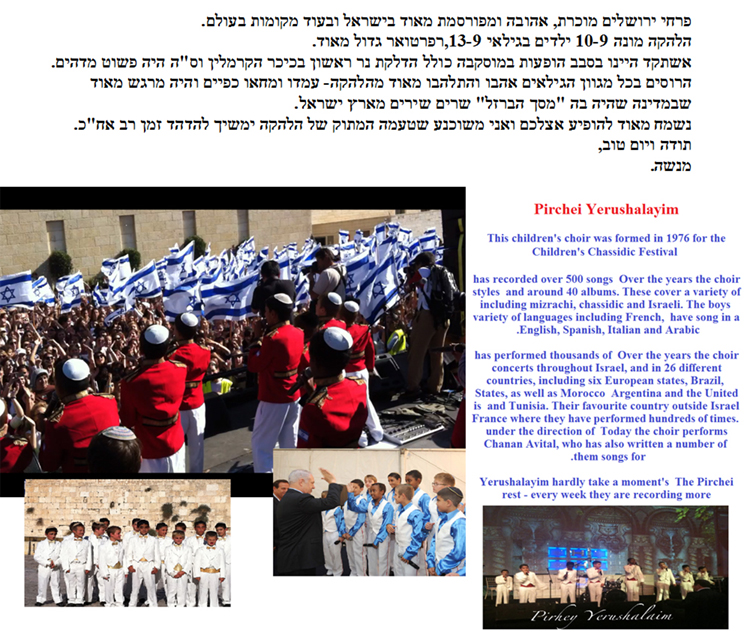 Click Here for A Medley of Rami Danoch (12.3 MB)!
(Right-Click & Save to Desktop for better results.)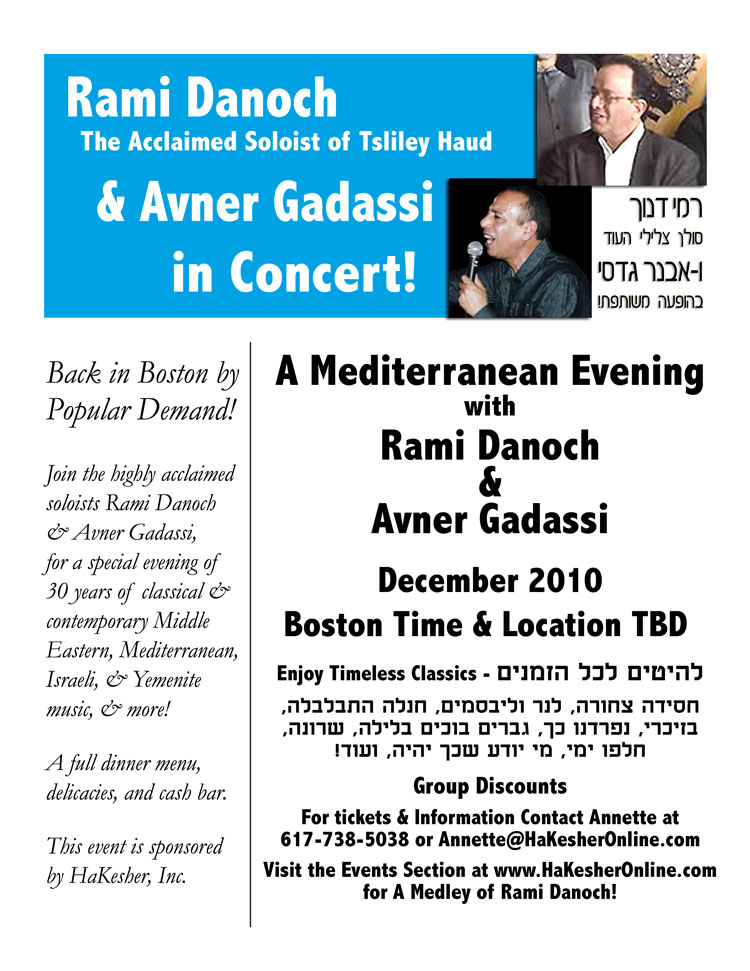 The City of Boston sponsors a series of events and activities that highlight different cultures and traditions by Greater
Boston residents. Sepharadic Culture New England is working together with the City officials to hold a special event,
to increase interest in and awareness of Mizrachi, Andalusian, and Ladino traditions, and highlight the diversity that
exists within the Sepharadic branch of Jewish culture and history originated in Spain, Morocco, and Italy. The event
will feature a guest speaker, and a musical ensemble that will delight guests with selections of Ladino, Andalusian,
Mizrachi, Classical Arabic, and religious hymns (piyutim). Traditional Spharadic foods will be served and a special art
exhibit of paintings and other Judaica items will be presented.

Two events are planned – A small intimate afternoon event at the state house, and a larger event at a venue for 300+
people. In light of Yehoram Gaon's upcoming end of October 2010 concert, we may wish to combine our Speharadic
cultural celebration with his concert.

Join our FaceBook group, http://www.facebook.com/sepharadicculturene, and invite your friends and colleagues so you
may all experience the rich tradition of Sepharadic Jewry. We would like to grow our event committee to help with
decorations, entertainment, catering, venue & event management, graphic design, flyering, media/publicity,
sponsor/donor solicitation, etc. We encourage all to share of your commemorative Sepahardic Judaica items to further
enhance the event experience – Please view the photos we have posted in our FaceBook page, our article in Maariv
USA (Maariv_USA_Shalom_Boston_July_2_10_Color.pdf), and contact us
with ideas at (617) 738-5038 or AnnetteZrihen@gmail.com.